Arbovirus surveillance in Lao PDR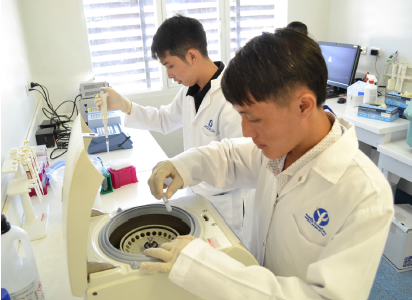 Project Coordinator: Dr. Somphavanh SOMLOR
Staff members:
Dr.Thonglakhone XAYBOUNSOU, Phaithong
BOUNMANY, Sitsana KEOSENHOM, Souksakhone
VIENGPHOUTHONG
Funding:
The arbovirus surveillance activity conducted by the lab is financially supported by the Institute and by theAgence Française du Développement (AFD) throughthe Ecomore2 project.
Since 2012, the A&EVD laboratory has implemented a surveillance network for arboviruses in the Vientiane Capital. In 2015, answering a request from the MOH, this network has been extended to two Southern provinces (Saravan; Attapeu). Then, since 2018, as an outcome of the Arboshield project conducted with the Lao Army health service, it has been further extended to seven other provinces (Champassack; Savannakhet, Luang Prabang, Xiengkhuang, Phongsaly, Oudomxay and Vientiane province). In 2019, 38,892 cases of dengue, including 76 fatal cases were reported at the national level. This devastating epidemic was due to the predominant circulation of dengue virus serotype 2 (DENV2). After this major epidemic, dengue continued to circulate in 2020 (Figure 2). By the end of October, we investigated 1,650 dengue suspected cases. More than three-quarter (78.4%, 1294/1650) were from our network in the Vientiane capital. Of these, 57 % were confirmed cases of dengue.