Lao – Japan lab / Parasitology 2022-2023
Head of Lab: Shigeyuki KANO, MD, Ph D
Email: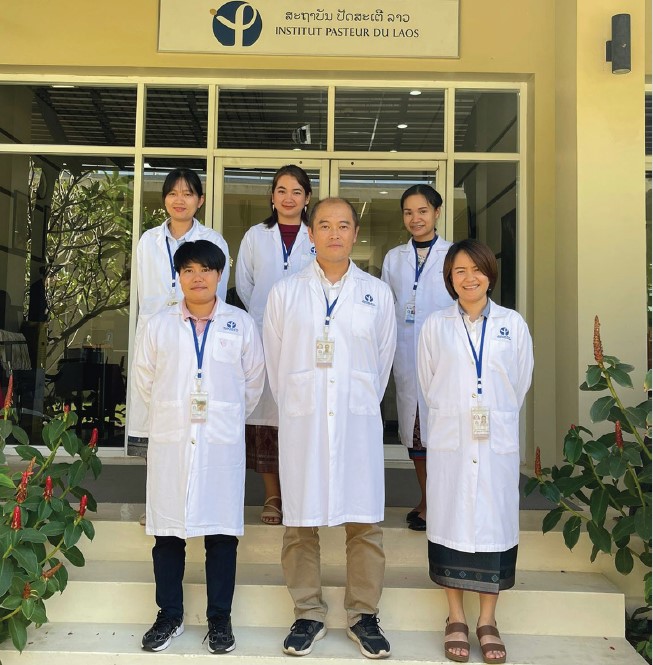 The aims of the Parasitology Laboratory are to carry out research and training in the area of parasitology to better understand parasitic diseases affecting the Lao population and to propose ways to mitigate possible infections, and to provide technical support to the national-level institutions in the area of malaria and other parasitic diseases.
Executive summary
The Arboshield Plus project is aim to improve capacity of surveillance, outbreak detection/response and diagnosis/ treatment/prevention of vector-borne diseases, as well as biosafety/security, especially for the Lao Military sector. One role of the Lao-Japan Parasitology lab in this project is to improve malaria surveillance and diagnosis for the military sector and the civil sector through training and quality assessment. We conducted a short training course of malaria for staff in the military hospitals and civilian hospitals. One year of on-the-job training of military staff in the Institute of Preventative Medicine was also conducted. As a quality assessment, we analyzed blood samples collected from malaria-suspected patients in the military hospitals by malaria real-time PCR. In 2022, 188 blood samples that collected from malaria-suspected patients in the military hospitals were analyzed by the real-time PCR and all the samples were malaria parasite DNA negative. From 2018-2022, a total of 612 blood samples were analyzed by the real-time PCR and 13 samples were malaria parasite DNA positive (3 P. falciparum and 10 P. vivax).
An antimalarial drug therapeutic efficacy study was launched in November 2019 to evaluate drug efficacy by in vitro culture technique and molecular markers at Institut Pasteur du Cambodge (IPC). In this study, IPL is responsible for sample collection and preservation in liquid nitrogen in a collaboration with the Center of Malariology, Parasitology and Entomology (CMPE), the Lao Ministry of Health and the local healthcare facilities. Live Plasmodium falciparum samples were collected from malaria patients who participated in this study in Savannakhet, Salavan, Champasak and Attapeu provinces (124 samples were collected from Savannakhet, Salavan and Attapeu provinces, as of 1st November 2022). Currently, Material Transfer Agreement is preparing for sending the cryoprescerved P. falciparum samples to IPC. This study is financially supported by WHO.
LaoBiome project was launched in February 2022 with Lao TPHI team and South Korean team. In this project, "For-Baby" supplement of probiotics or placebo, which were developed by Prof. Won Jae Lee, Seoul National University, South Korea are given to baby and child (6-23 months of age) every day for 12 months. Stool samples will be collected from the study participants at three time points: month 0 (base line data), month 6, and month 12 for analyzing intestinal microbiota, inflammation, and parasitic infection. In 2022, 1209 study participants were recruited and followup them. IPL Parasitology team is responsible for stool collection, inflammation check by a rapid diagnostic test kit, and microscopic examination for parasitic infection.
New SATREPS project is accepted by JICA and AMED on May 2022 and will be launched in 2023. The title of the SATREPS project is "Project for Malaria and Neglected Parasitic Diseases Control and Elimination using Advanced Research Technique, Communication tools and Eco-Health Education". Objective of this project is to accelerate malaria elimination, schistosomiasis elimination, and control opisthorchiasis through developing advanced diagnostic measures and infection prevention measures. Capacity development of Lao young researchers is also one of the important component of the project. From Japan, National Center for Global Health and Medicine (NCGM) will spearhead the project, and seven universities (Tokyo Medical and Dental University, Niigata University, Dokkyo Medical University, University of the Ryukyus, The University of Tokyo, Shinshu University, Kumamoto University) will participates in the project as a collaborative partner. From Lao side, CMPE, DCDC, Lao TPHI, University of Health Sciences, National University of Laos and some other partners will participate in the project.
Scientist:
Dr. Moritoshi Iwagami, PhD, Laboratory Manager
Dr. Phonepadith Khattignavong, MD
Junior Scientists:
Dr. Phoyphaylinh Prasayasith, MD
Dr. Sengdeuane Keomalaphet, MD
(Fulbright scholarship, Master course at
Tulane University, USA, 2021-2023)
Technicians:
Pheovaly Soundala
Sonesimmaly Sannikone
Trainees:
Phoungern Xayyalath (Aug 2021-Aug 2022)
Souphanick Phomeexay (Sept 2022-Feb 2023)
Project carried on in the lab:
+Arboshield Plus Project
+Antimalarial Drug Therapeutic Efficacy Study
+LaoBiome Project
+SATREPS Project (in preparation)