Entomological field surveys in selected high-risk dengue transmission areas in Vientiane (Baseline survey).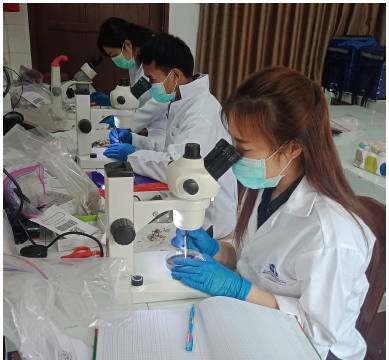 Mosquito identification
Project coordinator:
Sébastien MARCOMBE
Staff members:
Phoutmany THAMMAVONG, Khanmany OUDOMSOUK, Bouapha NGONETHACHACK, Inthava KATIYALATH,
Kongphaeng SAIYALATH
Background
In Laos, dengue viruses are primarily transmitted by Aedes aegypti mosquitoes, with Aedes albopictus reported as a secondary vector in semi-urban and rural areas. Existing and novel vector control methods rely upon a thorough understanding of the abundance and distribution of the vector if these programs are to be implemented in an efficient and effective manner. Therefore, to facilitate better targeting of existing prevention strategies against dengue in Laos, and also determine the suitability of these sites for potential new control methods involving Wolbachia, this project aimed to define the distribution and abundance of dengue mosquito vectors throughout selected high-risk dengue transmission areas in Vientiane.
This involved the use of contemporary mosquito collect traps (BG Sentinel Traps), data collection and analytical tools and geographic information systems, to define the spatial distribution and seasonal abundance of mosquitoes throughout selected areas of Vientiane. Field entomological surveys involved the placement of mosquito collection traps (BG Sentinel Traps) in and around households throughout the study area. Householders were asked to participate in the study and host a mosquito collection trap in or near their house. Weekly collections of the mosquitoes were made, and mosquitoes were identified to species, counted and entered into a database for analyses and reporting. A geographic information system was used to map the location of traps, households and other geographic features throughout the study area. Weekly reports and maps were generated to show the abundance of major mosquito species, including the identification of areas of high vector abundance and potentially elevated risk of transmission. Collections were made over a 12-month period (from November 2019 to October 2020) and mosquito abundance data were analyzed to understand the temporal and seasonal patterns and any associations with local dengue transmission. Weather data were obtained throughout the study period and these were analyzed to determine whether there is an association with local mosquito vector abundance.
The project was undertaken collaboratively between the Ministry of Health through the Department of Communicable Disease Control, Institut Pasteur du Laos and the World Mosquito Program, Monash University.