Age-stratified seroprevalence of vaccine-preventable infectious disease in Saravan, Southern Lao People's Democratic Republic
Project Coordinator: Kinnaly Xaydalasouk, Vilaysone Khounvisith, Antony Black
Collaborating institutions: Luxembourg Institute of Health, Saravan provincial and district hospitals.
Publications and communications: written report to the provincial and district health office, Lao DCDC and WHO. Manuscript accepted for publication.
Background
Routine infant vaccination within Lao PDR was formalized in the 1970s with the introduction of the Expanded Programme of Immunisation (EPI). Initially, this consisted of six vaccines but it was gradually expanded and now routine childhood vaccination includes; BCG and hepatitis B virus (HBV) vaccine at birth; pentavalent vaccine (Diphtheria-Tetanus-Pertussis-Hepatitis B-Haemophilus influenza b; DTP-HepB-Hib), Polio vaccine, Pneumococcal vaccine at 6, 10 and 14 weeks; measles/ rubella combined vaccine at 9-11 and 12-18 months.
Adult vaccination focuses on diphtheria/tetanus vaccination of pregnant women and women of childbearing age, in addition to various supplementary immunization activities (SIA) e.g. against polio, measles and rubella. Despite the comprehensive vaccination program, outbreaks of vaccine-preventable diseases (VPD) continue to occur, such as polio, measles, diphtheria and pertussis. Outbreaks near the borders with neighboring countries such as Vietnam have also raised fear of cross-border spread of disease.
Vaccination coverage of the HBV birth dose also remains low due to the high number of unattended home-births. As mother-to-child HBV transmission is believed to be the main route of infection in Lao PDR, HBV birth dose is key to reducing the burden of chronic infection, which is as high as 9% in adult males, and the consequent high levels of cirrhosis and liver cancer. Disease outbreaks often affect particular subgroups of the Lao population or remote regions of the country where vaccination coverage and immunogenicity are challenging.
Saravan province is a largely rural province situated in the south of Lao PDR. The provincial population was 396,942 in 2015 with eight districts, two of which border with Vietnam to the West and two bordering Thailand to the East. The main languages are Lao-Tai and Mone- Khmer and there are 14 main ethnic groups. Vaccination coverage is low, for example, only 44.4% received HBV birth dose vaccination in 2017 (ranking 4th lowest out of 18 Lao provinces) and only 10.4% of women received at least two doses of tetanus vaccine during their last pregnancy (2nd lowest nationwide).
Due to its large rural population, ethnic diversity and poor health indicators and its borders with two neighboring countries, we aimed to determine the exposure and susceptibility of the population to VPD in Saravan province.
Methods
Participants Participants
aged 5 and over were recruited whilst attending the provincial hospital in Saravan town and 7 district hospitals for unrelated reasons (Khongxedone, Lakhonepheng, Toomlarn, Vapy, Lao Ngam, Samoui and Taoiy). The sample size was chosen according to feasibility. Thus, a maximum target size of 2500 male and female participants was chosen.
Both in-patients and out-patients were asked by the healthcare staff to participate in the study and sign the informed consent after having the study explained and reading the information sheet. In the case of participants unable to read the Lao language, the healthcare workers would read the consent form and for participants unable to sign, a fingerprint would be taken with the signature of a witness. The parents or guardians gave consent for children less than 18 years old.
After collecting demographic information (age, sex, hometown, place of birth, religion, ethnicity, occupation and marital status) the participants donated 5 mL of blood. HBsAg rapid testing was done by the participating hospital staff and results/counseling was given to the participants. The remaining blood was allowed to clot and serum separated by centrifugation. Serum was stored at -20°C at the hospital and then sent to Institut Pasteur du Laos where it was stored at -80°C until use. Antibodies were assessed by ELISA.
Ethics approval for the study was provided by the Lao National Ethics Committee for Health Research (reference 018/NECHR/2017)
Results
Population characteristics
Only two of the selected participants refused to participate due to fear of needles and blood and fear of stigmatization depending on the blood test result. Therefore, a total of 2463 participants were enrolled. The median age was 28 years (range 5 to 90) and 57.0% were females. 40.2% of participants were from Lao Ngam district and 31.0%, 11.7% and 10.3% were from Saravan, Taoiy and Samoui districts, respectively. Less than 10% of the participants were recruited from the remaining districts. 59.8% of participants were married and the main occupation was farming (60.8%). There were 10 ethnic minority groups represented in the study with 52.9% following animism, and 46.5% Buddhism. Almost half of the participants did not know their place of birth, however, 46.7% stated that they had been born at home (Table 1). One serum sample had only enough volume to test for HBV markers, and therefore all other markers had a denominator of n=2462.
Table 1. Demographics of the study population (or their parents)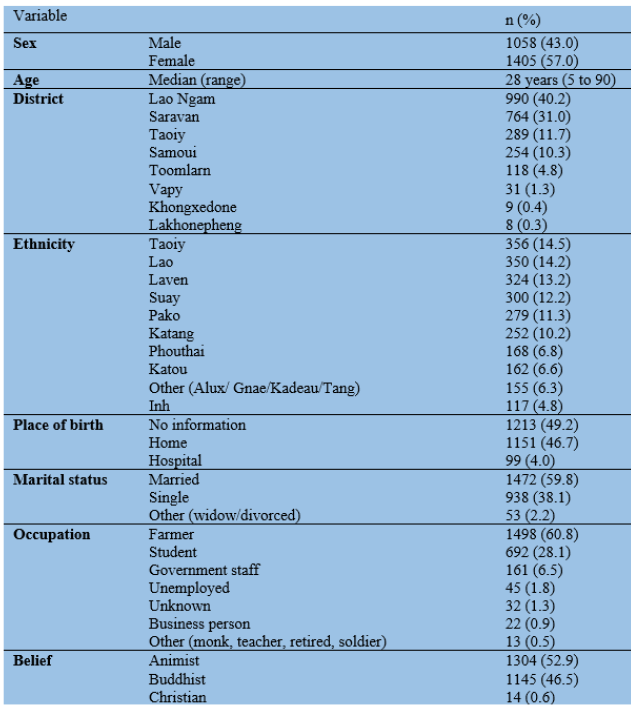 Serology
Hepatitis B virus (HBV)
Overall past exposure to HBV (anti-HBc positive) was 817/2463 (33.2%) (Table 2, Figure 1). After multivariate analysis, exposure increased significantly with age; those aged 5-10 years had 1.5% anti-HBc seropositivity compared to 62.4% in those more than 50 years old (OR 72.0 [24.5-211.7], p<0.0001). Males had significantly higher exposure than females (37.4% and 30.0%; OR 1.7 [1.3-2.0], p<0.0001). Ethnicity had only a small effect on exposure; the Katou group had slightly higher exposure compared with the Inh group who had the lowest exposure (OR 2.6 [1.3-5.2], p=0.003).
The prevalence of chronic (or acute) infection, as defined by HBsAg detection by ELISA, was 3.8% overall (Table 2, Figure 1). Prevalence was 0% in those 5-10 years old, increased until the age of about 20 and then stabilized at around 5%. Males had a significantly higher HBsAg prevalence (5.7%) than females (2.4%; OR 2.5 [1.6-3.9], p<0.0001). The serological profile for vaccination (anti-HBs positive, anti-HBc negative) was only 9.9% overall and highest in those aged 5-10 years old (39.5%) (Table 2). None of the hepatitis B markers were associated with district or place of birth.
Table 2. Hepatitis B serological markers. Data show results from ELISA testing. All anti-HBs positive samples or anti-HBc negative samples were assumed to be HBsAg negative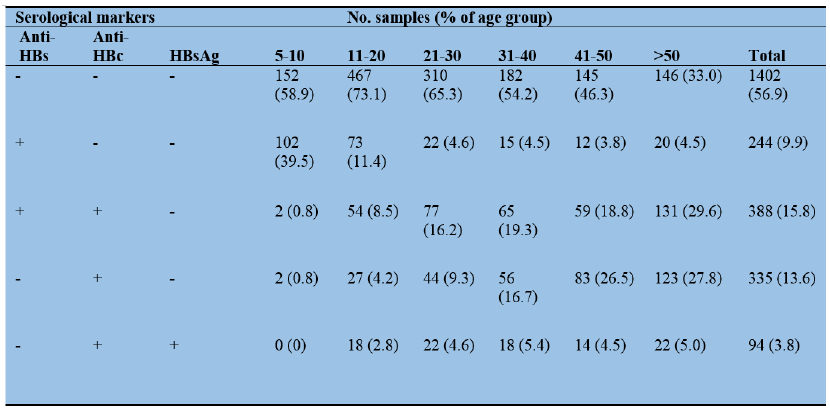 Tetanus and diphtheria
Overall 42.4% had "insufficient immunity" against tetanus and 11.3% had "low immunity". Sufficient immunity (titres >0.5 IU/ml) was detected in only 46.3%, with 14.2%, 27.9% and 4.2% who needed future booster doses in 2-5, 5-10 and 10 years. After multivariate analysis, sex had a large impact on protection; males (14.5%) were significantly less protected against tetanus than females (70.2%; OR 0.05 [0.04-0.07], p<0.0001). Overall levels of protection were highest in the age group 31-40 years (61.9%), compared to 5-10 year olds (40.7%; OR 2.9 [1.9-4.4], p<0.0001). This was mainly due to the increased titers and protection in older women. The level of protection in women over 20 years of age was 78.5%. Ethnicity, district, occupation and religion were not associated with the level of tetanus protection (Figure 2).
Only 3.3% of participants overall had "no protection" against diphtheria and 56.2% had "uncertain protection". "Immunization protection" was present in 33.1% and only 7.3% had "long-term protection". The highest protective levels were found in women aged 11-20 (53.6%). After multivariate analysis, seroprevalence of protective antibodies (titres > 0.1 IU/ml) was slightly lower in males (37.0%) than in females (43.0%; OR 0.7 [0.6-0.9], p=0.001). No other factors were associated with diphtheria protection (Figure 3).
Measles and rubella
Most participants had immunity against measles (1808/2462; 73.4%) and 6.6% were borderline. Measles seroprevalence increased significantly with age from only 16.7% in the 5-10 year olds to 97.7% in those over 50 years (OR 145.9 [65.8-323.5], p<0.0001). Males had slightly lower prevalence of protective anti-measles antibodies (68.4%) than females (77.2%) at all ages (OR 0.6 [0.5-0.8], p<0.001). There was a significant difference in anti-measles seroprevalence between some of the ethnic groups; namely, the Lao Tai group had lower seroprevalence (69.1%) than the Inh group (93.1% OR 0.2 [0.08- 0.5], p=0.001). There was no significant association of protective anti-measles seroprevalence with any of the other parameters (Figure 4).
Anti-rubella IgG seroprevalence was high from an early age with 93.0% seroprotected overall and 1.5% with borderline results. Seroprevalence of protective antibodies varied by district, the lowest being in Khongsedone (77.8%), which was significantly different from the highest prevalence in Toomlarn (98.3%; OR 21.5 [2.5-182.9], p=0.005). There was no association of anti-rubella seroprevalence with ethnicity, sex or any other parameter (Figure 4).
Discussion
In order to reduce the high burden of HBV infection in Lao PDR, the vaccine was introduced at 6, 10 and 14 weeks of age between 2002 and 2004 onwards and was complemented by the birth dose in 2003/2004. In the current study in Saravan Province, in Southern Lao PDR, we show that HBV exposure (anti-HBc positive) increased significantly with age – from only 1.5% in those aged 5-10 to more than 60% in those older than 50. HBsAg prevalence also increased with age from 0% in the 5-10 year olds, to 2.8% in 11-20 year olds, and then stayed about 5% in those older than 20. The low level in the youngest age group indicates a positive impact of the introduction of the routine HBV infant vaccine and is in agreement with our previous data. Conversely, high levels of exposure and HBsAg in adults born before vaccine introduction are comparable to other studies of Lao adults from central Lao PDR but lower than those in the North of the country. As in previous studies by our group and others in Lao PDR and elsewhere, males had a higher prevalence of HBsAg (5.7%) and exposure (37.4%) than females (2.4% and 30.0%, respectively). This disparity started from a young age, and in other settings has been suggested to be a result of a difference in sex hormones. Despite this sex difference, HBsAg seroprevalence in women aged 20-50 was high at 2.9%. This indicates a significant risk of onward transmission via mother-to-child infection, which is thought to be the main route of infection in Lao PDR. Given that most chronic infections have been shown to be established during birth and the perinatal period, vaccination with the birth dose of the HBV vaccine needs to be maintained in Saravan province. The vaccine serological profile (anti-HBs positive/anti-HBc negative) was only 39.5% in children 5-10 years old. According to the Lao Social Indicator study II (LSIS II), vaccination coverage with HBV birth dose in Saravan province was only 44.4% and only 60.2% of infants received all three DTP-HepB-HiB doses in 2017. Therefore the low percentage of people with vaccination serological profile that we see here and previously in central Lao PDR probably reflects low vaccination coverage and/or low vaccine immunogenicity and antibody waning.
The Katou group had 49.4% HBV exposure overall, which was significantly higher than the reference group (Inh) after multivariate analysis. This may reflect differences in vaccination coverage or risk practices although there were no significant differences in vaccination serology or HBsAg prevalence. Unfortunately, further analysis was not possible due to the small number of Katou participants, therefore this warrants further investigations.
A positive impact of the Lao national immunization program was reflected in the elimination of maternal and neonatal tetanus in 2014. In the current study, more women were protected than males (70.2% and 14.5%, respectively) due to tetanus vaccination of all women aged between 15 and 49 years before and during pregnancy. The WHO recommends that at least 80% of women receive 2 or more doses of tetanus vaccine during pregnancy to maintain maternal neonatal tetanus elimination. Nevertheless, more than 20% of women of childbearing age remain susceptible to tetanus. This corresponds to our earlier findings of low levels of tetanus vaccination in Savannakhet province in Lao PDR, challenging tetanus elimination, particularly in remote areas. We also found that males and children were particularly susceptible, suggesting the need to improve routine infant vaccination coverage and to monitor disease incidence in men.
We detected a low level of protection against diphtheria in all age groups. Only 40.5% overall had antibody titers associated with sufficient immunity (> 0.1IU/ml). Although susceptibility was high in all age groups, this is particularly concerning in young children, who have the highest risk of severe disease. Since the introduction of 3 doses of the diphtheria-containing vaccine in infants more than 40 years ago, there has been a significant reduction in diphtheria outbreaks. Nevertheless, cases still occur, for example, there were 73 nationwide in 2019, emphasizing the need for further strengthening of routine vaccination coverage and vaccine management. The small but significant difference between seroprevalence in males (37.0%) compared with females (43.0%) is most likely due to the introduction of diphtheria vaccine to women of child-bearing age in the form of diphtheria-tetanus (DT) nationwide in 2012.
Seroprevalence of protective measles antibodies was less than 20% in 5-10 years old children and only 50% in those 11-20 years old. This high susceptibility of the younger population is surprising, especially since Lao PDR introduced the measles vaccine for children aged 9-11 months in 1984, and the second dose in 2017 for children aged 12-18 months. The significant increase of measles seroprevalence in the older age groups probably indicates cumulative wild-type exposure with age or possible inclusion in SIA such as that in 2011 which covered children aged 9 months to 19 years (approximately 9-30 years at the time of the study). Several recent measles outbreaks in Lao PDR, including 1119 reported cases in 2019, have likely resulted from low vaccination coverage and compromised vaccine immunogenicity. Interestingly, seroprevalence was particularly high in the Inh ethnic group (93.1%) perhaps reflecting wild-type virus circulation. There were only 117 participants from this ethnicity, and we could find no data on measles cases.
In contrast to measles, the prevalence of protective antirubella antibodies was high in all age groups in our study. Given the lower measles seroprevalence in children and our recent data showing wild-type rubella circulation in Lao children, it is likely that the high rubella virus seroprevalence in children in Saravan is due to wild-type infection as well as vaccination. The different seroprevalences between districts may indeed reflect local outbreaks of the disease or different vaccine coverage. The high seroprevalence in adults is mostly due to natural virus infection, as rubella containing M/R vaccine was only added to the childhood immunization schedule in 2011/12, although there have been subsequent SIA, which may partially account for some of the seropositivity in the age groups up to 30 years of age. In women aged over 20, the rubella seroprevalence was high (91.5%), indicating that the risk of infection during pregnancy and consequent Congenital Rubella Syndrome is low in this setting.
Overall, our data show that the routine childhood vaccination in Saravan needs to be strengthened. Regarding measles and rubella, further investigations are needed into the apparent low immunogenicity of the measles component of the vaccine. Indications of disparate vaccine coverage and/or disease exposure between districts and ethnicities also warrant further investigation. A booster dose of DT-containing vaccine is suggested worldwide by WHO at the age of 12-23 months and later. We recommend that Lao PDR review this policy for the DTP-HepB-Hib vaccine, as indicated by low diphtheria, tetanus and HBV protection in our study. In addition, the coverage of the birth dose of HBV vaccine needs improving, in order to reduce the early life exposure to HBV e.g. mother-to-child transmission.