Luxembourg-Laos Partnership for Research and Capacity Building in Infectious Disease Surveillance – PaReCIDS; a summary of activities from 2016 to 2021 and future plans.
Since 2012, the Vaccine Preventable Disease laboratory (Lao Lux Lab) at Institut Pasteur du Laos has been supported by funds from the Luxembourg Ministry of Foreign Affairs under the "Luxembourg-Laos Partnership for Research and Capacity Building in Infectious Disease Surveillance – PaReCIDS" program in close collaboration with the Luxembourg Institute of Health. 2021 marked the end of the second 5-year cycle and the commencement of PaReCIDS III.
The remit of the PaReCIDS program is (i) to investigate the burden, the epidemiology and the etiology of infectious diseases in humans and animals, (ii) to provide health officials with the scientific evidence required for their decisions to improve public and animal health, (iii) to evaluate and strengthen current disease prevention and control measures, including vaccination programs, (iv) to build qualitative and sustainable laboratory capacity and (v) to train the next generation of scientists, healthcare workers and medical doctors in public health research.
During PaReCIDS II, the program supported between six and seven permanent Lao staff at Institut Pasteur du Laos at any one time, plus a number of visiting scientists and students. The research activities covered a number of important public health issues such as; hepatitis B virus infection in different population and risk groups (e.g. dentists, healthcare workers, women and young children); immunogenicity and timeliness of routine infant vaccination; vaccine knowledge and awareness among different populations, including healthcare workers; tetanus vaccination among women of childbearing age; incidence and prevalence of fever-rash diseases such as measles and rubella; incidence and prevalence of respiratory infections, including SARS-CoV-2; investigations of hepatitis C virus and liver disease.
The research activities resulted in 22 publications in peer-reviewed journals, 18 oral conference presentations and 22 conference poster presentations. Training of Lao staff was a central tenet, and notable achievements included the training of Vilaysone Khounvisith in molecular techniques in the Luxembourg Institute of Health in 2019. Siriphone Virachith joined the laboratory during PaReCIDS II, after completion of her PhD in Japan. Dr. Virachith has been involved in many activities including co-supervision of students from Lao Tropical Public Health Institute, leading a key study on COVID-19 serology, supervision of laboratory technicians, and securing independent funding from Institut Pasteur, Paris to study the role of endonucleases in hepatitis B virus infections. During PaReCIDS II, the laboratory members also trained staff and students from partner organizations, including Lao Military Healthcare workers and over 20 students from Lao Tropical and Public Health Institute, University of Health Sciences and others (Table 1).
Table 1. Activities during PaReCIDS I and II (adapted from PaReCIDS III proposal)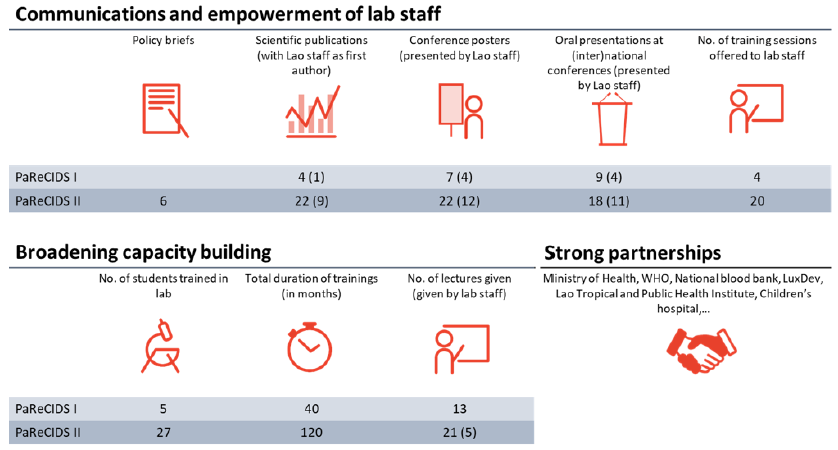 Many of the studies had important implications for health policy. The evidence based-data were communicated to partners and policymakers – such as the WHO, the National Immunization Programme, the Lao Department of Disease Control and the National Centre for Laboratory and Epidemiology – in the form of policy briefs and other written or oral communications. Phonethipsavanh Nouanthong from the VPD laboratory acts as Executive Secretary to the National Immunization Technical Advisory Group (NITAG), and as such, acts as an effective link between evidence-based data and policy recommendations. Examples of health policy recommendations include; strengthening of routine infant vaccination; enhancing surveillance for fever rash diseases; improving hepatitis B vaccination for healthcare workers; booster vaccination doses for adolescents; raising awareness of vaccination among the general population.
Table 2. Examples of evidence-based recommendations made during PaReCIDS II (adapted from PaReCIDS III proposal)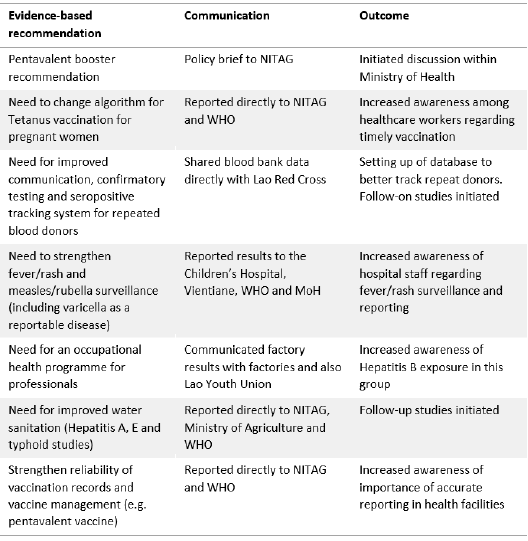 In October 2021, an agreement was signed between IPL and the Luxembourg Institute of Health for the continuation of the PaReCIDS activities until 2026. The focus of PaReCIDS III will remain on research and training in the field of infectious diseases and will build on and expand the areas of interest, including infectious diseases such as hepatitis A, B and C, diphtheria, tetanus, and SARS-CoV-2. The training and development of Lao staff and partners are continuing with the PhD studentship of Vilaysone Khounvisith, in collaboration with the Swiss Tropical Public Health Institute to investigate the relationship between water, sanitation and hygiene (WASH) levels and infectious disease. The training and development of staff within IPL and external partners will continue to be a key aim of PaReCIDS III, in addition to the generation of evidence-based data in order to inform health policy. We acknowledge the generous support and clear vision of the Luxembourg Ministry of Foreign and European Affairs, which make our research possible.