Detection of Hepatitis C in the general population in Saravan Province, Lao People's Democratic Republic (PDR)
Project Coordinator: Kinnaly Xaydalasouk, Vilaysone Khounvisith, Antony Black
Collaborating institutions: Saravan provincial and district hospitals, Luxembourg Institute of Health
Publications and communications: written report to the Lao Department of Communicable Disease Control, local and regional WHO, manuscript accepted for publication
Background
Hepatitis C virus acute infection progresses to chronic infection in approximately 75-85% of cases with a consequent high risk of liver complications, cirrhosis and liver cancer. Transmission of the virus is via blood, for example by using non-sterilized equipment during medical procedures, tattooing, or intravenous drug use. Sexual transmission is rare and mother-to-child vertical transmission occurs in approximately 6% of infected pregnant women.
There have been few studies on hepatitis C virus prevalence in the Lao People's Democratic Republic (PDR). The Lao Red Cross report that less than 1% of the blood donors are anti-HCV positive. Similarly, studies in Lao healthcare workers and female garment factory workers in Vientiane found approximately 1% were anti-HCV positive.
The aim of this research was to determine the exposure and susceptibility to hepatitis C virus in the population in Saravan province, southern Lao PDR.
Methods
755 participants aged 5 to 90 years were recruited from Saravan province. Recruitment took place via the provincial and district hospitals. Serum samples from the participants were tested for exposure to the hepatitis C virus (ELISA for IgG antibodies) and for vaccination/exposure to other infectious diseases. The study was approved by the Lao National Research Ethics Committee (ref 005/2018 NECHR).
Results
Anti-hepatitis C virus IgG antibodies were detected in 11.7% (88/755) of participants. Males had a slightly higher proportion of positives (13.7%) than females (10.0%). When stratified by age, the majority of anti-hepatitis C-positive cases were adults, with 19.9% seroprevalence in those aged more than 30 years and 4.4% in those 30 years or younger.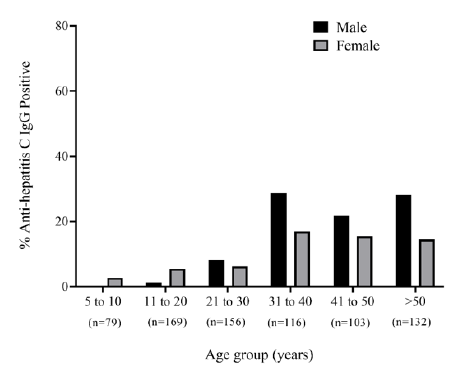 Seroprevalence was particularly high in the Samuoi district, with 24.3% (62/255) overall and 43.7% (52/119) in those aged over 30 years. The prevalence in Samuoi was high whether they were attending the district hospital for reasons associated with hepatitis (acute hepatitis/fever/ fever of unknown origin/hepatocellular carcinoma; 25.3%) or unrelated reasons (13.6%). 44/88 of the seropositive samples were sequenced and all were found to belong to HCV genotype 6.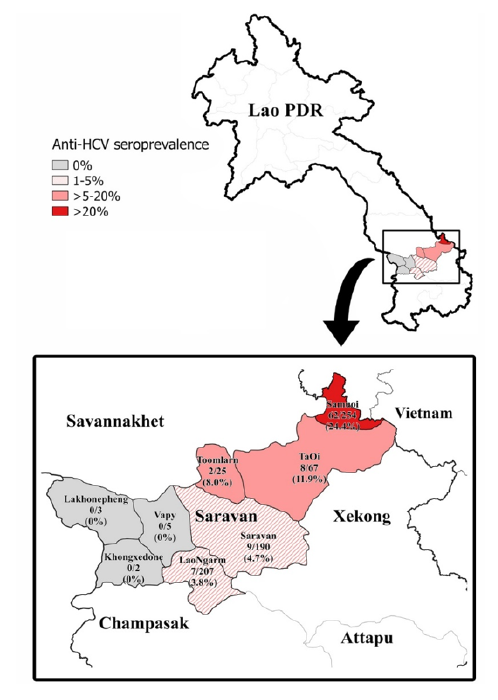 Discussion
The high prevalence of exposure to the hepatitis C virus in Saravan, particularly in adults from Samuoi province, is concerning and unprecedented. The high morbidity and mortality associated with chronic hepatitis C virus infection suggest that there will be a large proportion of the population with liver-related complications in the future.
In most countries worldwide, the prevalence of hepatitis C infection is below 5%. Notably, in Egypt, mass antischistosomal campaigns between the 1950s and 1980s facilitated the spread of hepatitis C by using contaminated medical equipment for administrating intravenous medication. As a consequence, the prevalence of hepatitis C in Egyptian adults was more than 40% in 1996. In other countries with high incidence, the source of infection is also often iatrogenic.
In the current study in Saravan, it was not possible to determine the source of the hepatitis C virus infections, although the localized nature of the cases suggests an initial source of infection in the Samuoi area. The high prevalence in adults indicates either a) adults are at higher risk of infection or b) the adults were infected many years ago, during their childhood or early adulthood. Nevertheless, a substantial proportion of children are also infected (albeit to a much lesser degree), either by mother-to-child transmission or via the same route as the adults. Further studies are needed to investigate the source of infection and to assess the knowledge and practice related to HCV prevention.
Recommendations
At the time of the study, curative treatment for hepatitis C virus infection was not readily available in Lao PDR and it was not within the capacity of this study to test and treat participants for hepatitis C as indicated in our Ethics and informed consent documents. It was also not feasible to determine the source of infection e.g. by an in-depth case-control study. However, such approaches are warranted in the future, in order to mitigate the impact of this high burden in Saravan Province. Prevention strategies could be focused on Saravan province, in particular in Samuoi district. A follow-up study is planned for 2022.